I'm really getting into the routine of Want It Wednesdays, I love how throughout the week I am looking out for those standout pieces and that are worthy of been included and this week and I kind of felt like I was struggling at first but actually where we really are getting into the swing of autumn winter trends there's just so much out there it's just about changing your mindset from thinking about summery bits to thinking about layers and textures – I don't about you but with winter comes the opportunity to play with opulent colours, materials and cuts.
I'm going to get straight to the point with the Versace bathrobe… indulge me in this ridiculously over the top opulence, there is a back story. One of my FB friends (Hey Alisia!) shared Bruno Mars' 24K Magic video and we both loved the Versace bathrobe, which unfortunately isn't available as part of their ready to wear collection so I had to improvise. It's excessive, unnecessary but it's Versace and I love it and want it.
Returning to normality, this quilted Lousana cross body bag from Aldo is all types of cool – it's crazy yet somehow will be a bag that you could pull out of your wardrobe again and again and still be excited to see it. This floral embroidered longline shirt from New Look may seem as if I'm clinging onto summer, but I am because we're off to Universal Resort Orlando in less than two weeks and this would be a great piece for our travels – I'd probably pair it with converse and wear it as dress for a day of outlet shopping.
Now my Want It Wednesday is normally finalised on a Monday, but I couldn't resist adding this screw horseshoe bracelet by Bacoca Boutique as a fashionably late entry, it reminds me of Vivienne Westwood Jewellery and is one of the pieces that I just know would compliment and elevate my everyday outfits.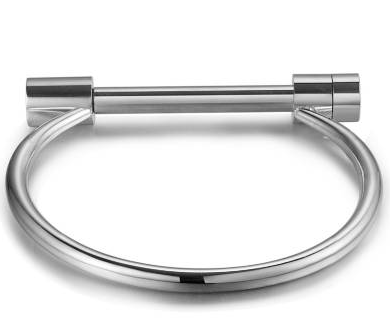 The Tulle Tiger T-Shirt from Zara ticks pretty much every singly trend box you can think of yet somehow still manages to pull off the effortless style without even a hint of trying, bravo Zara
Ok so the inner Sloane may be escaping here but these Russell and Bromley Vivacious bow trim court are literally my life's goal… And do you know what? They work with jeans and Kenzo sweater (c'mon what did you expect I am a product the 80s after all!) and also the more classic black shift dress – they're granny with bling, just my style!
Last but by no means least is the Crème de la Mer moisturising soft cream, at £110 for a 30ml pot it's at the top of the luxe beauty offering but with the weather well and truly meh it's an investment that is seemingly more and more needed to fight the dreaded effect of winter on my face.
As usual let me know your favourites, what you're like, wanting and needing.
Happy Wanting!