When we got the e-mail to say that we'd flying out to Universal Orlando Resort with Virgin Holidays we were absolutely ecstatic – this was set to be adventure of a lifetime. Whist we've traveled extensively, it would be Boo's first long haul transatlantic holiday. Fast-forward two weeks from being booked on the trip and it was time to set off for the airport.
We were flying from Gatwick South Terminal with Virgin Atlantic. They have a handy app that allows you to check in 24 hours prior to your flight, and even downloads your boarding passes to your phone. We arrived at the terminal just under three hours before our flight and headed to the bag drop, which was straight forward and allowed us to get through security with plenty of time for a customary Wagamama and a cheeky perch at the Champagne bar for Mama with a juice for Boo.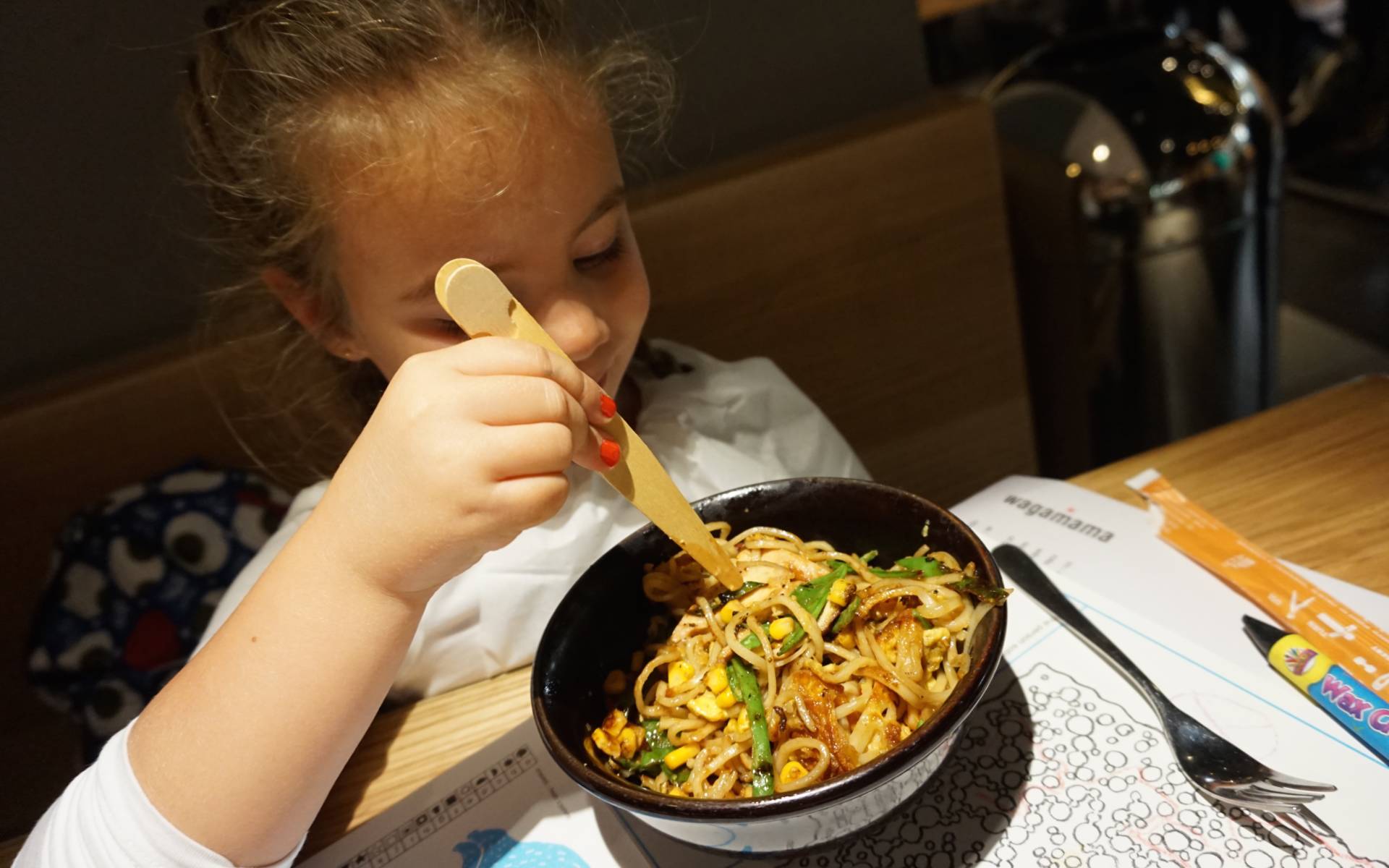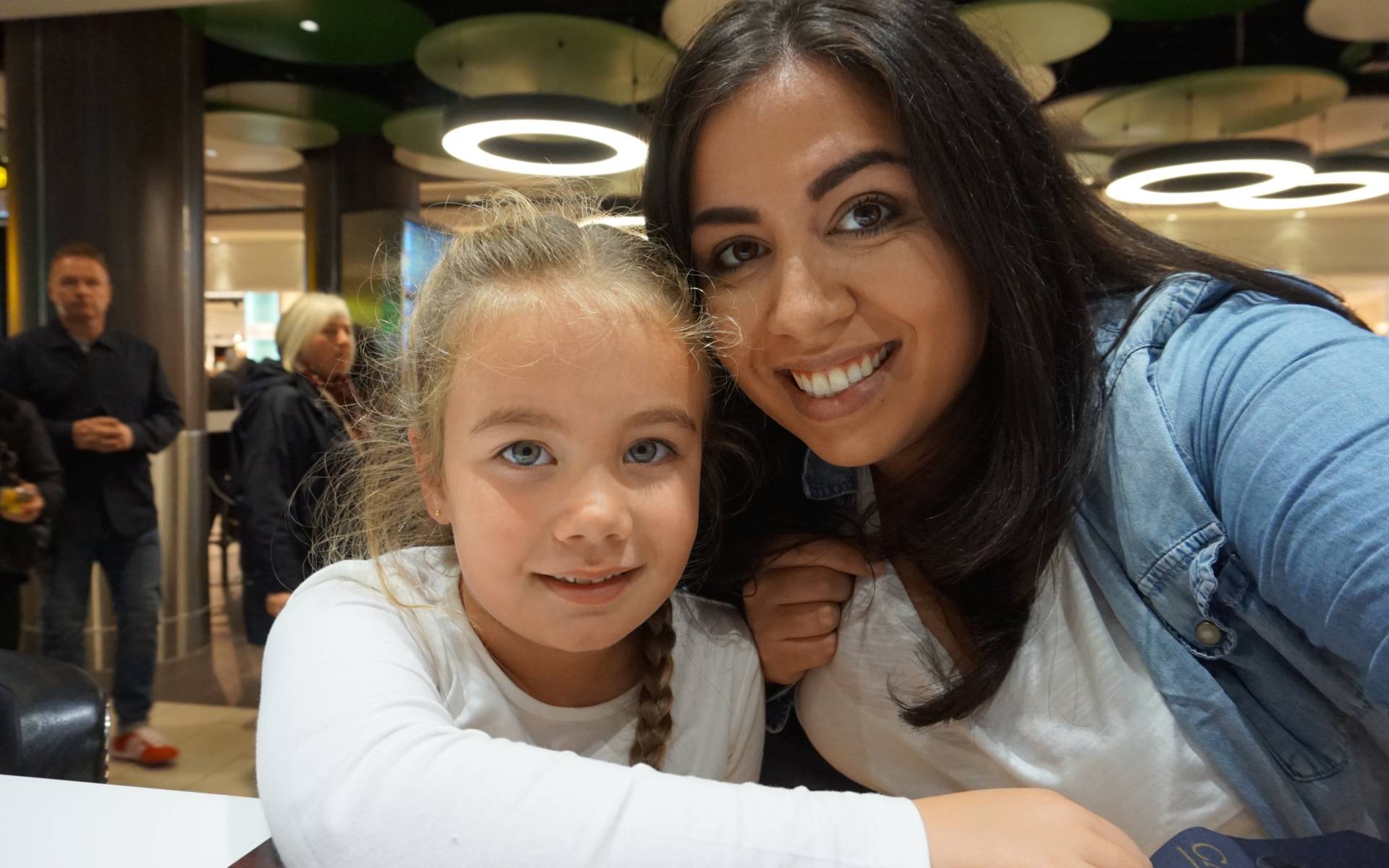 Next it was time to head to the gate and we were made to feel very welcome as we boarded Ladybird (each Virgin Atlantic plane has a name, which Boo loved!) bottles of water were handed out as we began to board and Boo had a lovely children's activity pack waiting for her on her seat. As we'd pre-selected our seats the week before we knew where we were sitting and I'd given Boo the task of finding our seats – she absolutely loved this, she felt like such a big girl!
Here's a wing shot of London above the clouds – you could almost forget it was a grey autumn day!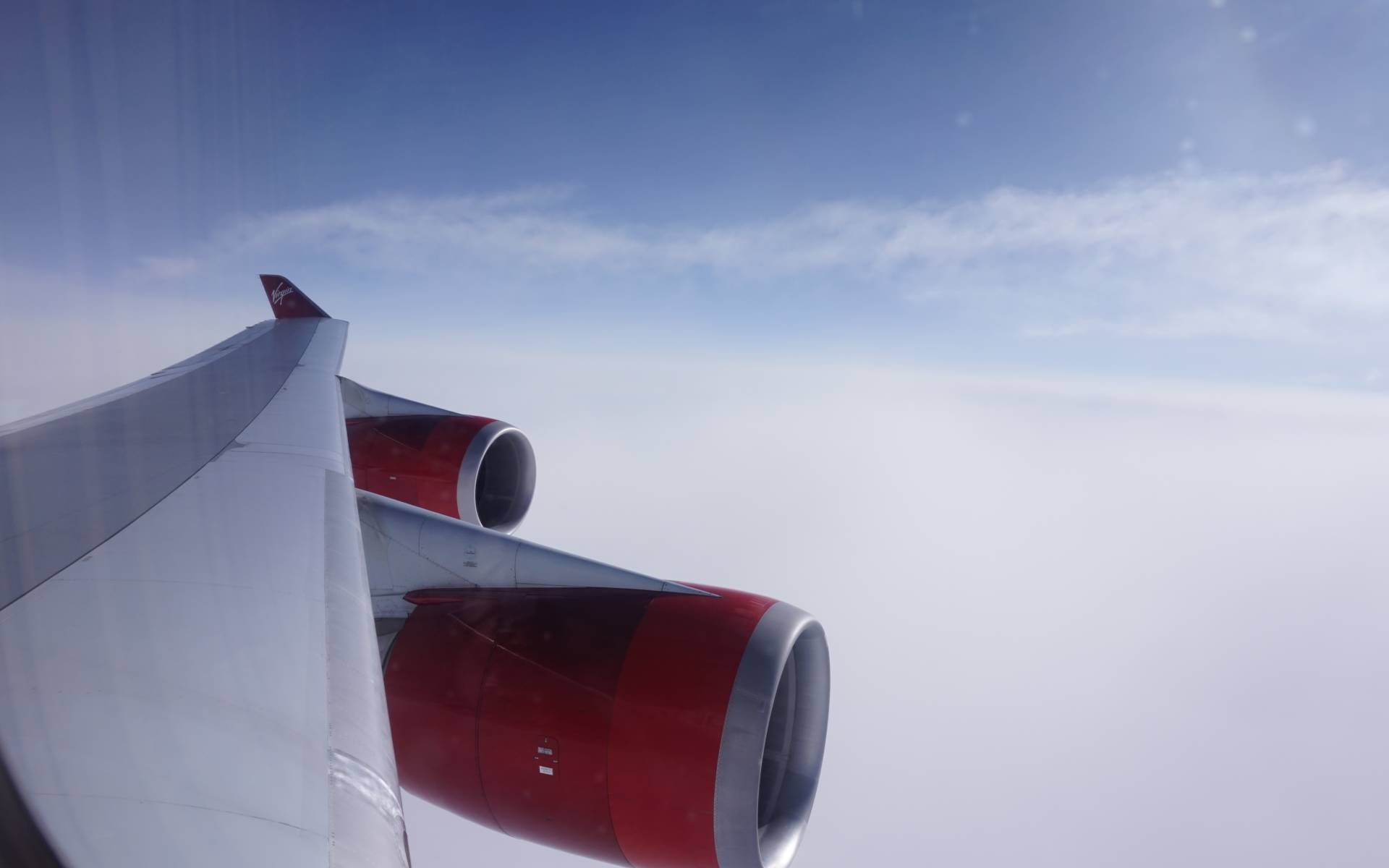 The flight was really smooth, cabin crew were really good and soon it was time for lunch – I'd preselected Boo to have a children's meal (My biggest tip if flying with children on all service flight is to check if you need to select a children's meal). As you can see Boo's meal was packed full of great options, handy when they don't feel like eating a big meal. I opted for the loaded beef chili wedge melt (I have this thing that I will ALWAYS choose the beef dish when on a flight… one of my many oddities). It had a real kick but in a great way and the Gü chocolate pot finished off a ground worthy meal.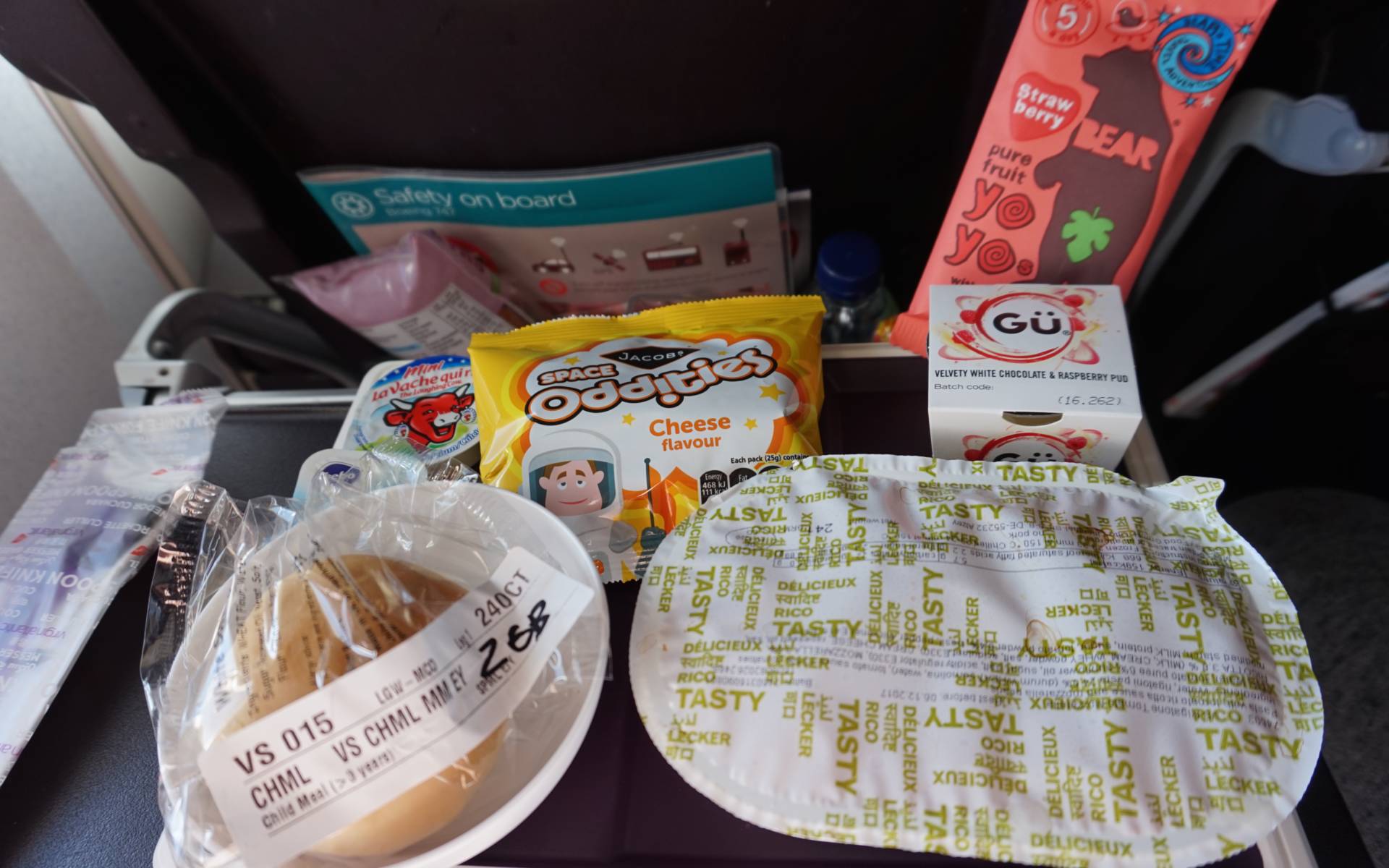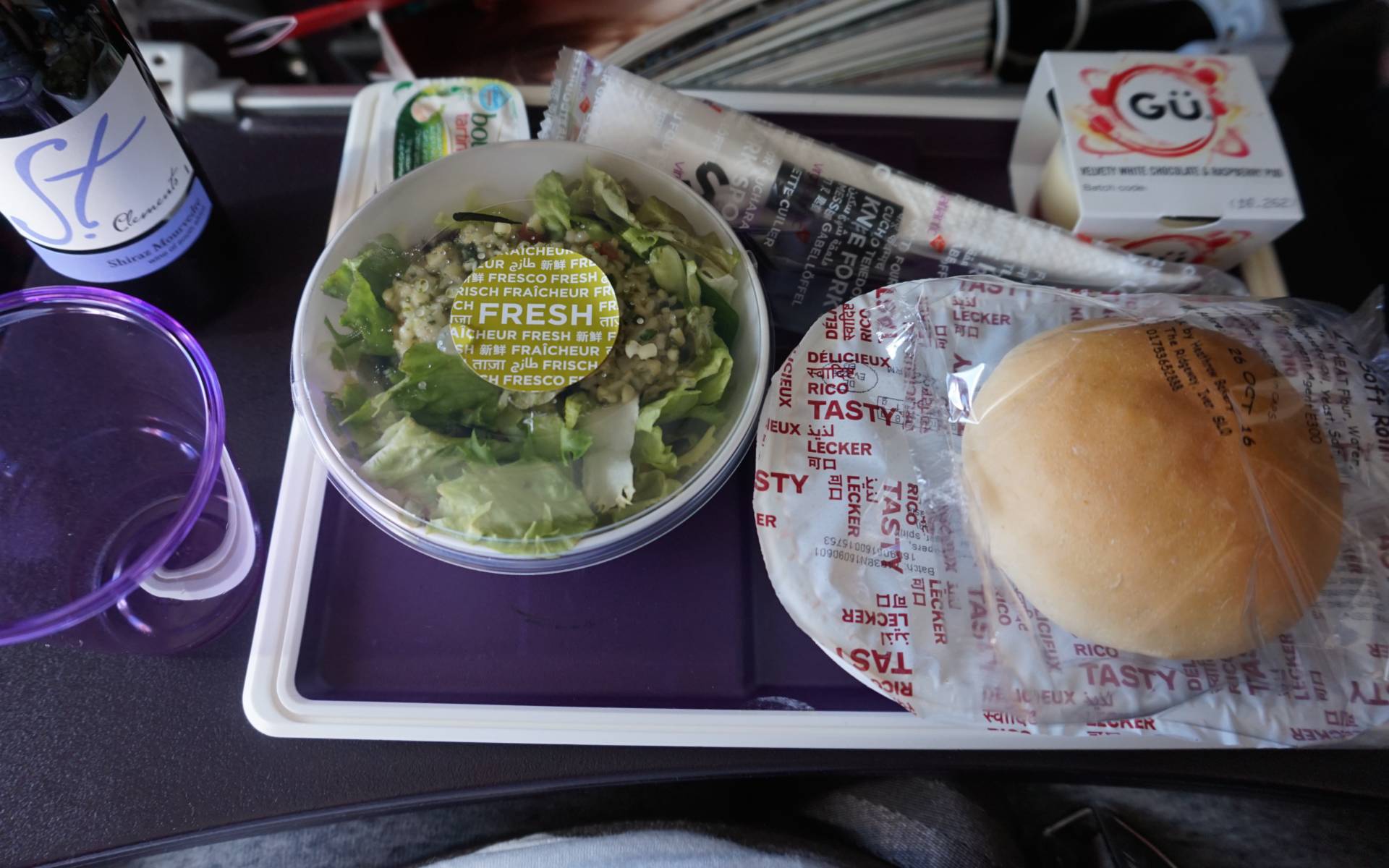 Boo didn't nap… at all! I on the other hand knew only too well the perils of not sleeping on a long haul so I managed to get a couple of hours spread throughout the flight and watched a great film: The Nice Guys – you've got to watch it, I've never laughed so much in all my life – apologies to anyone who had to endure my sporadic snorts of laughter! I'm convinced that Boo's lack of napping was down to Vera, Virgin Atlantic's onboard entertainment. She was spilt for choice with movies (yes I can confirm that she watched Finding Dory for the sixth time) plus the children's programs meant she got the chance to binge on Monster High's latest series: Boo York. And the best bit? The FABs brought round, I had a tough time trying to convince Boo that mummies were allowed children ice lollies!!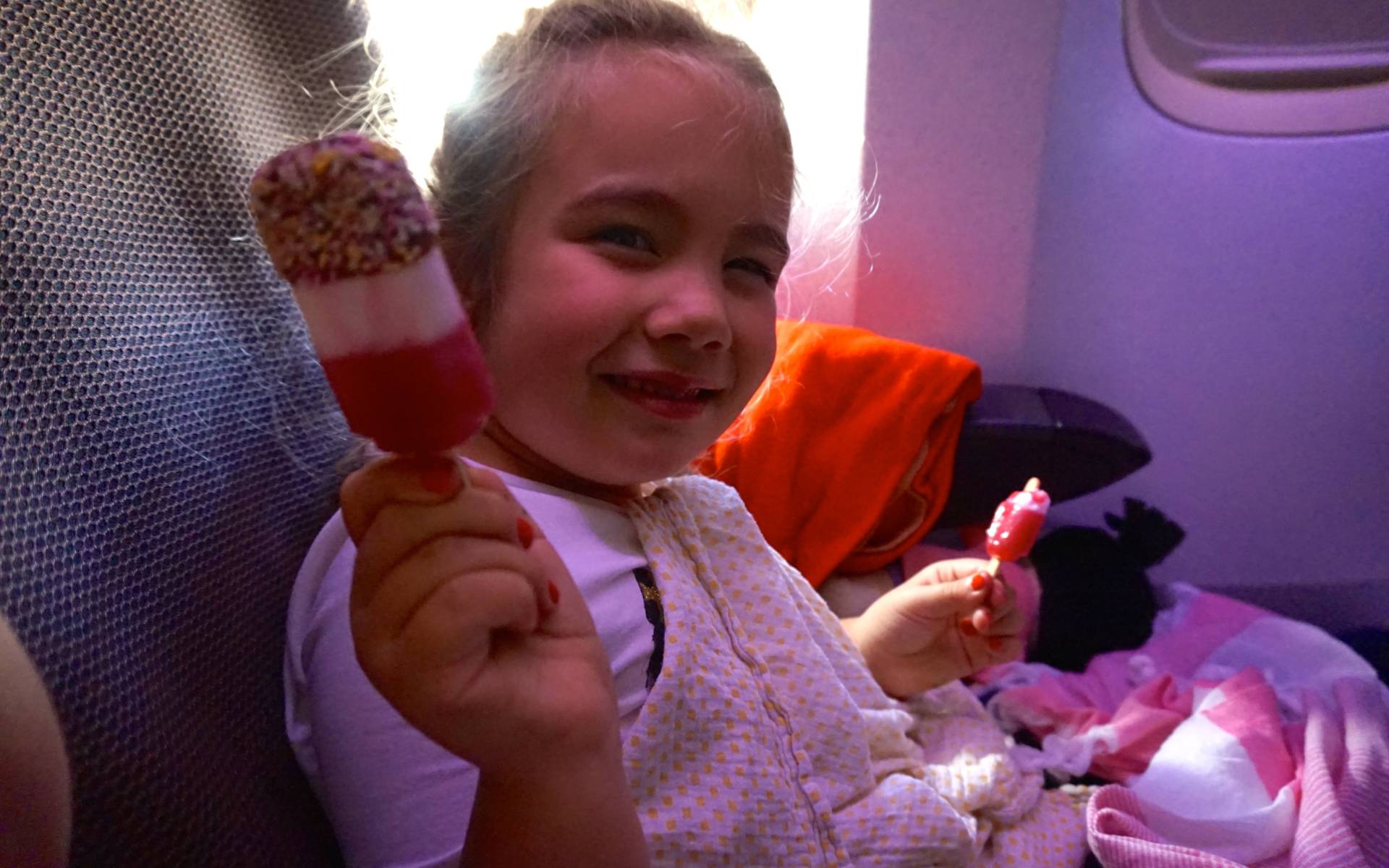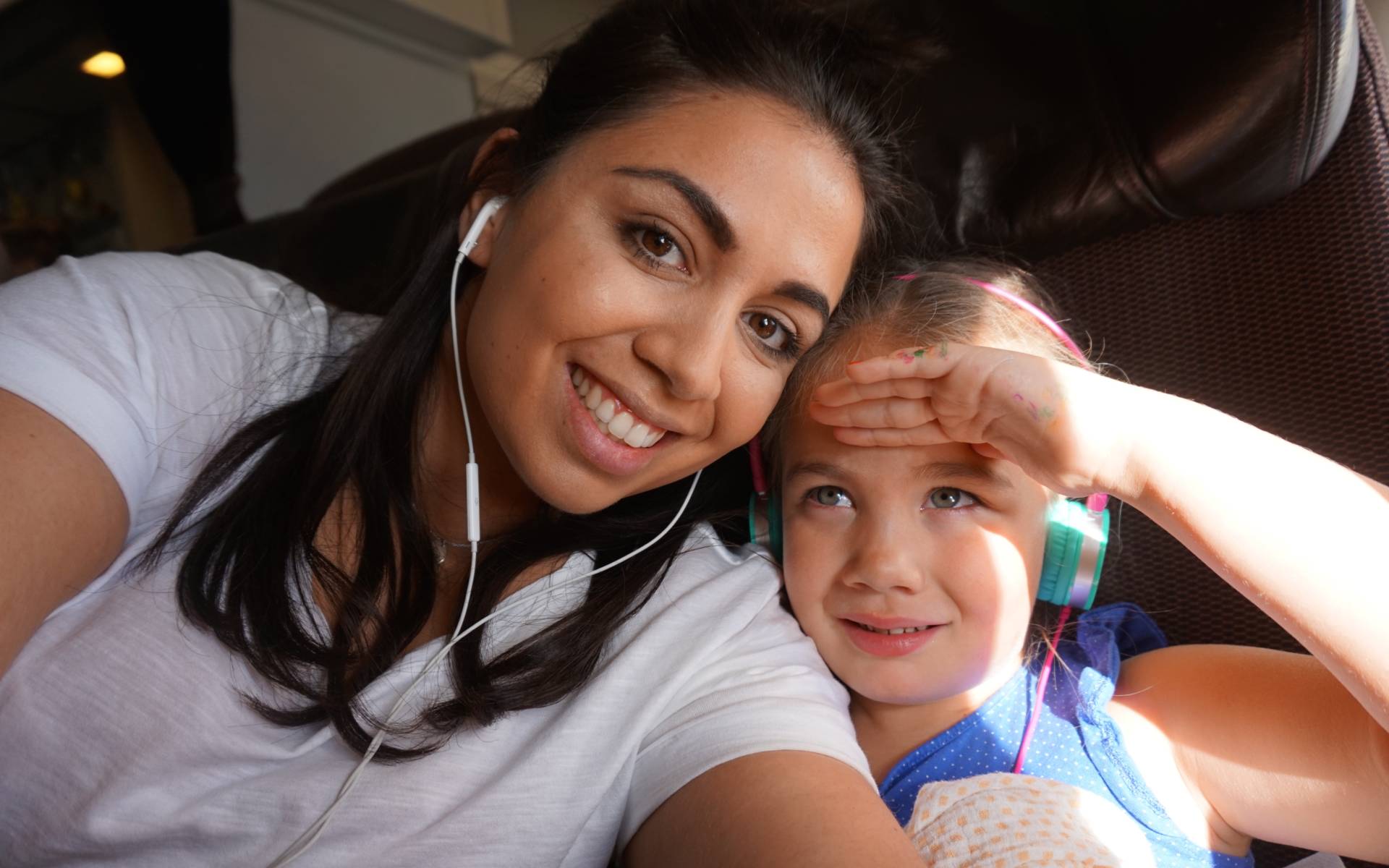 Soon it was time for afternoon tea, Virgin Atlantic style which consisted of a sandwich, crisps, an oh so chocolaty bar and the all-important cuppa. There's no denying that nine hours on a plane is a big ask for a five year old, but I found it's the little touches by the cabin crew on a Virgin Atlantic flight that makes it a fun part of your holiday rather than a mile high nightmare. Boo loved it when one of the Red Ladies (Boo coined that phrase before we'd even taken off) asked her about her outfit and took two minutes out to get down to her level and talk to her. It's something that Boo is still talking about; when you're five, it's about being a 'big' girl and Virgin got it spot on, thank you.
You can't deny that the wing shot above the Floridian clouds beats the pants of the UK one…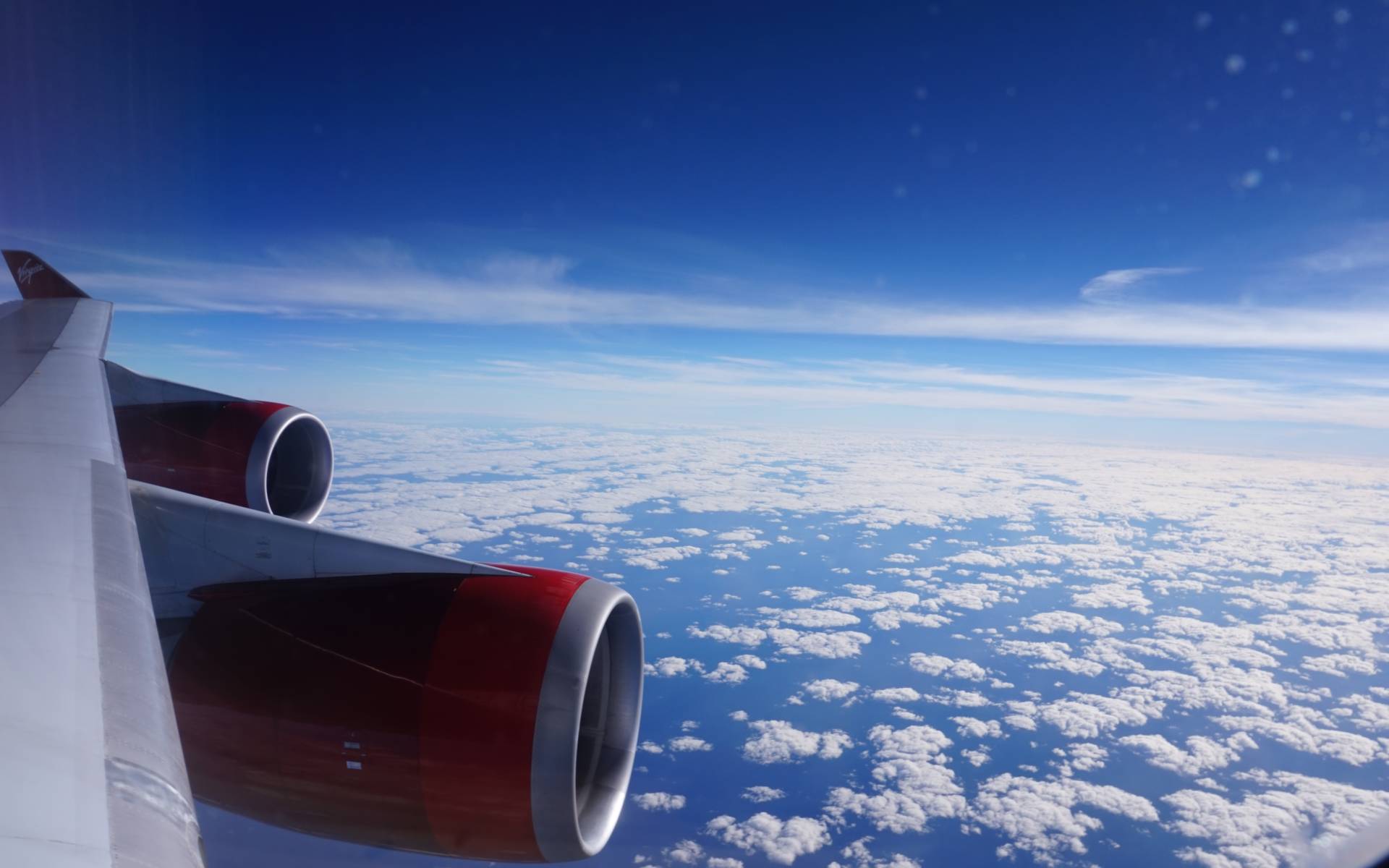 Our first sight of mainland America was the Kennedy Space Centre, which the captain announced to an excited cabin – it was a great start to our American adventures. After a very smooth landing we were fortunate enough that the queue for immigration was less than ten minutes and really smooth. After baggage reclaim it's time to get on the shuttle monorail for the terminal – take my advice and allow them take you luggage which meets you at the terminal, there was no way I could have carried it all and kept hold of Boo.
Our driver met us at the prearranged spot and we were soon on our way to the Hard Rock Hotel. It was lovely watching Boo's awe struck face as she took in the sheer scale of the US. After a short ride we arrived. As we turned onto the hotel's drive you can't help but feel like a rock star. Palm tree lined leading up to the majestic in size entrance. We received an unmistakably warm American welcome and our bags were taken while we checked in and showed to our room. We had been given a standard pool view room. Let me just say there is nothing standard about the room, two queen beds, the biggest TV you ever did see, fantastic make up area.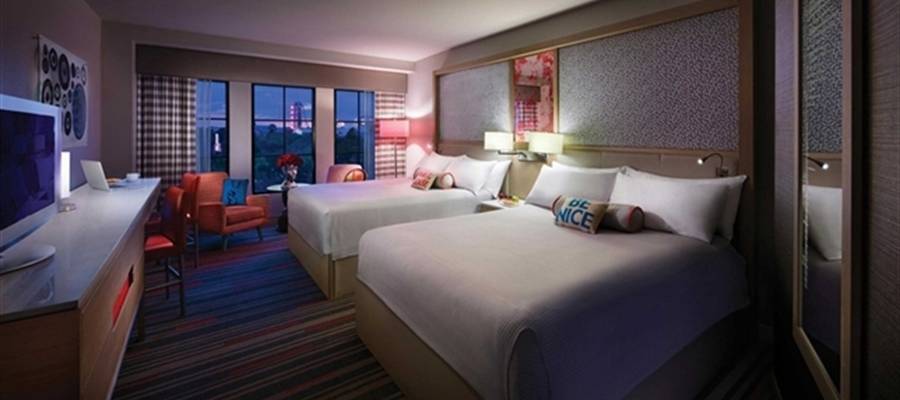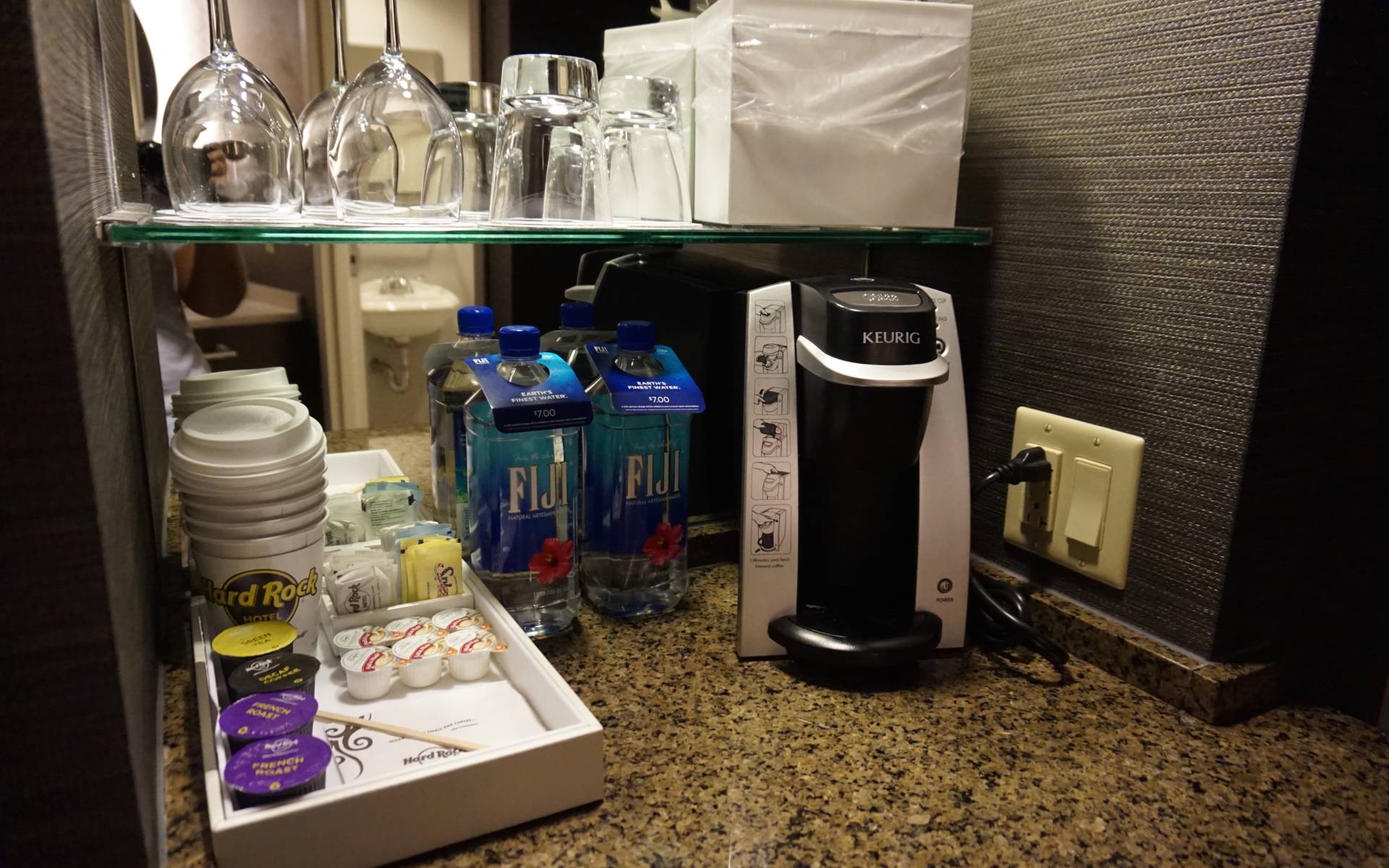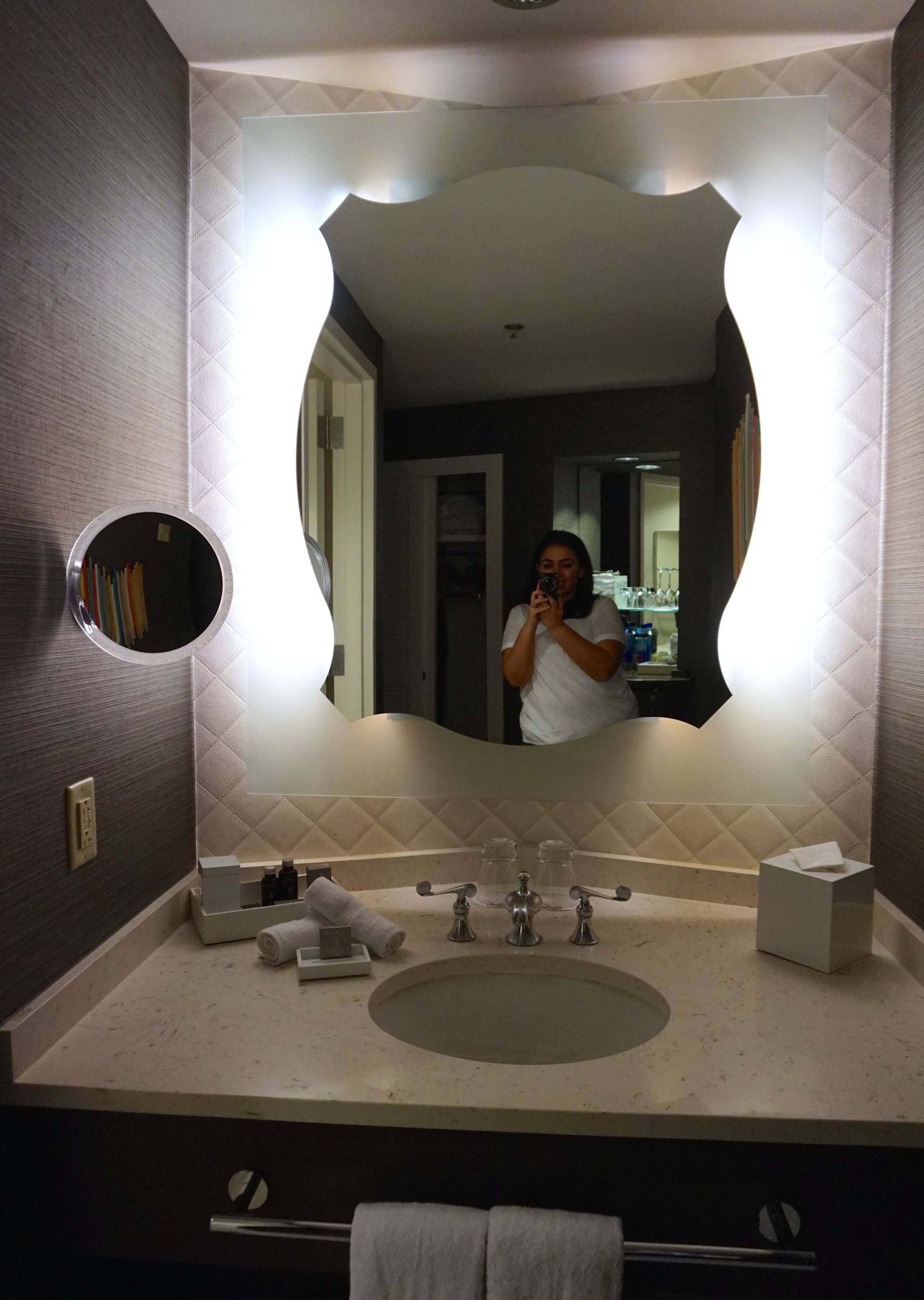 And the most spectacular view of the pool and the theme parks. The perfect teaser for what adventures awaited us the next day…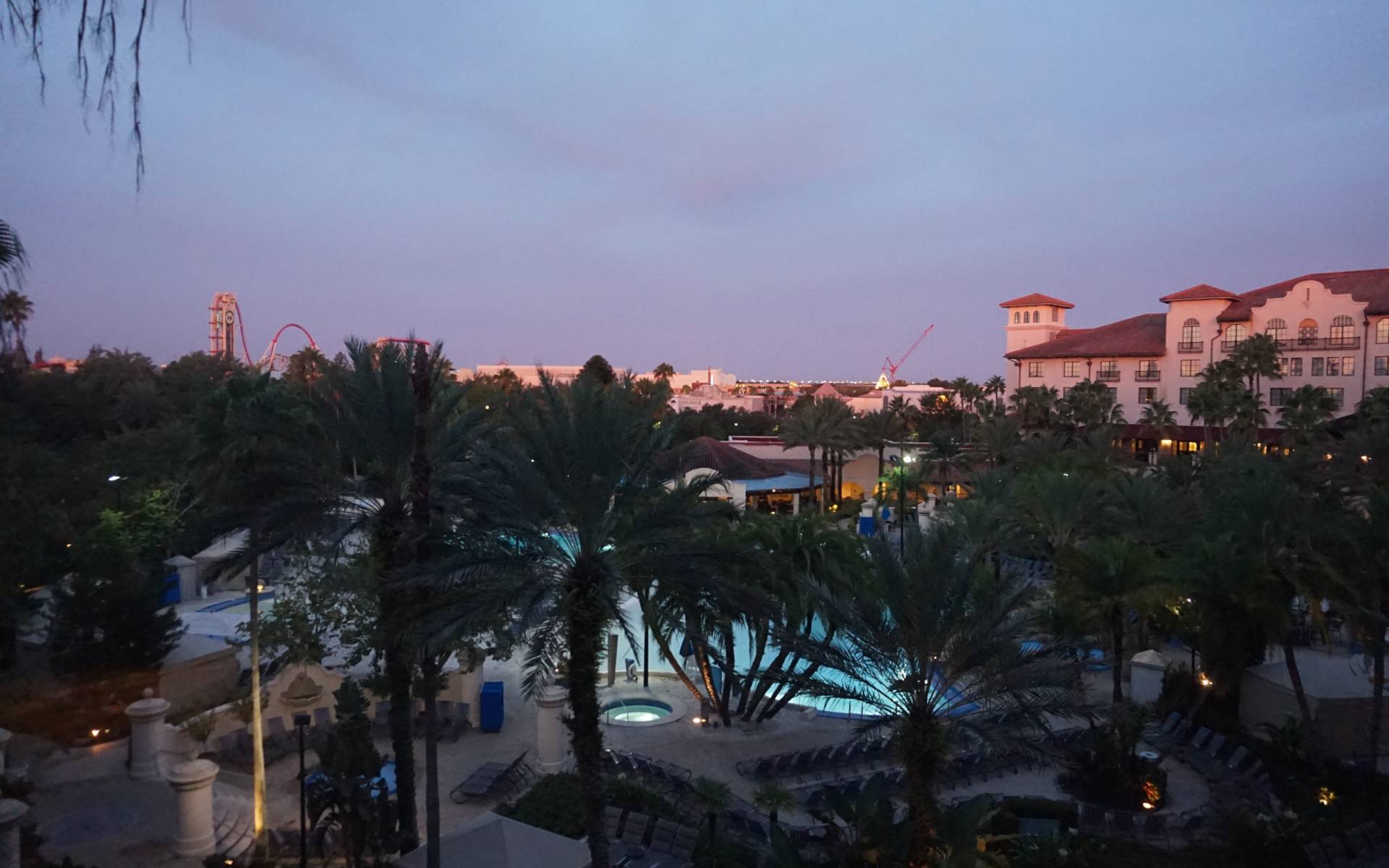 We didn't get long in our room before it was time to bead down to The Kitchen for our dinner reservation. The Kitchen is the place to be food wise at The Hard Rock Hotel' serving breakfast (more of that in part two, but you know it's going to be good!) we grabbed a quick dinner as by now Boo was exhausted and eventually feel asleep half way through our meal! I went for a classic Hard Rock burger and even though I'm no stranger to American portions it always catches me by surprise – Boo chose a cheeseburger from the kids menu which comes printed on an oven glove, a little fun touch. I enjoyed a mojito which gave me the strength to carry a snoring Boo back to our room and it was lights out by 10pm as I knew the morning brought the beginning of even more adventures.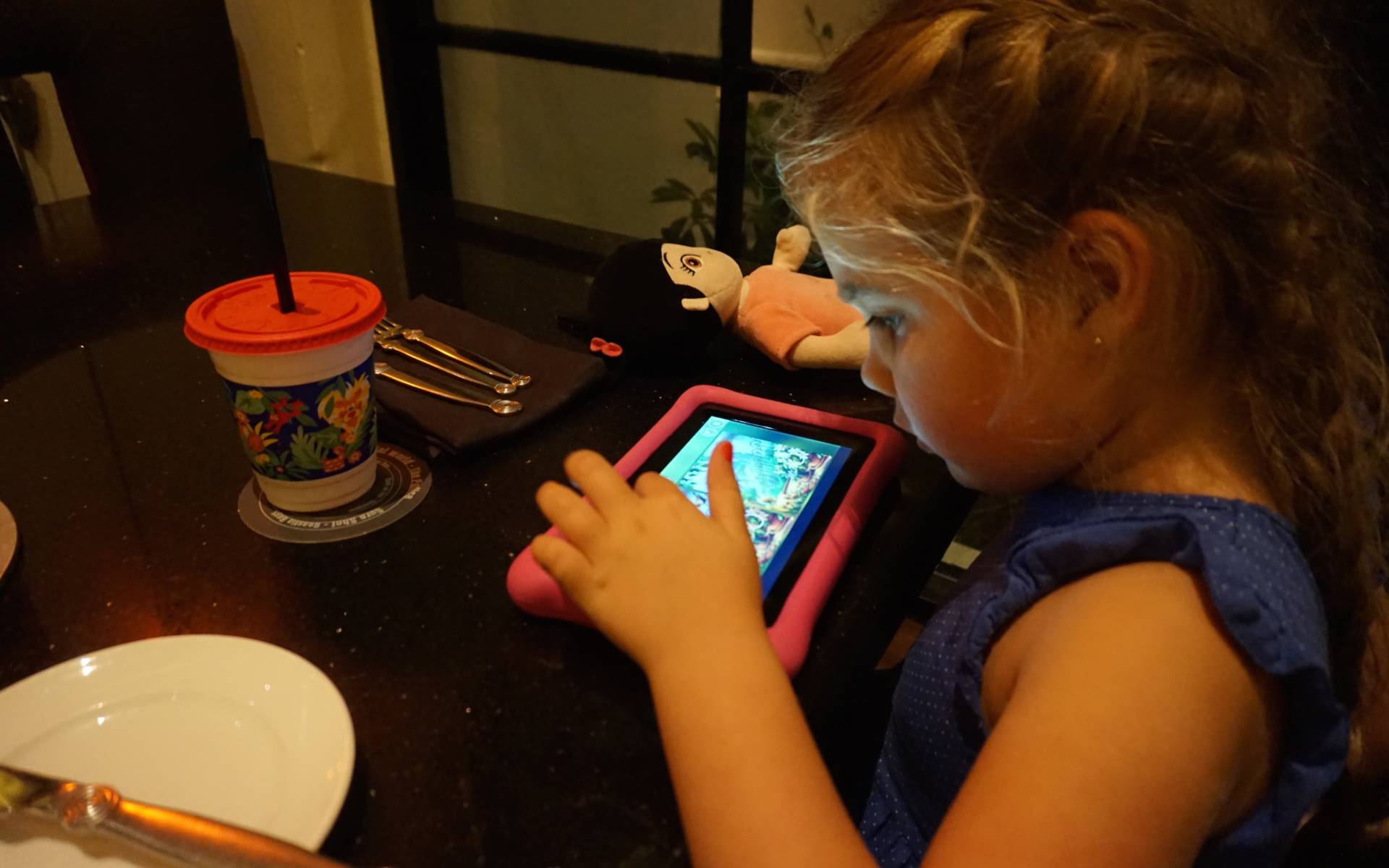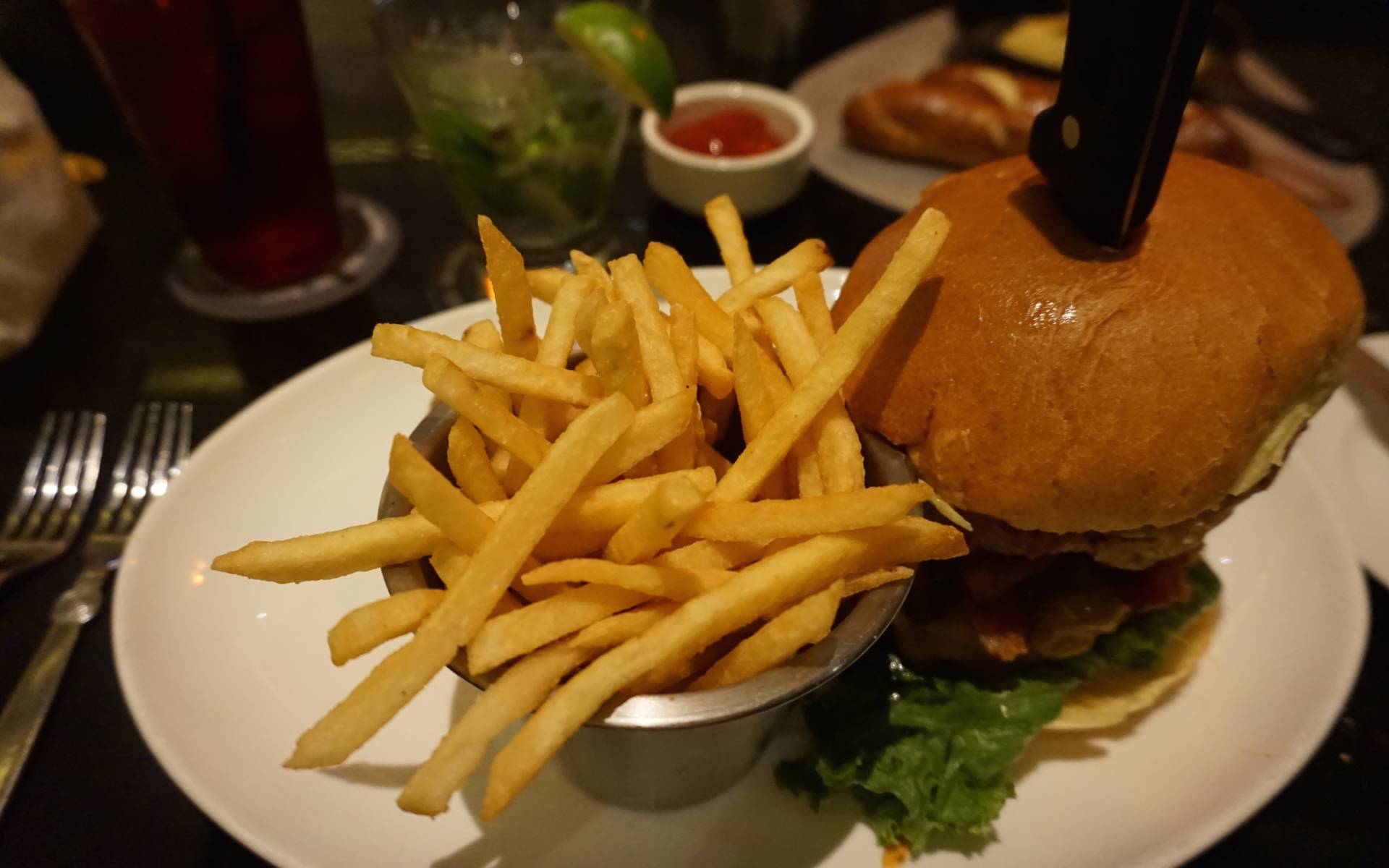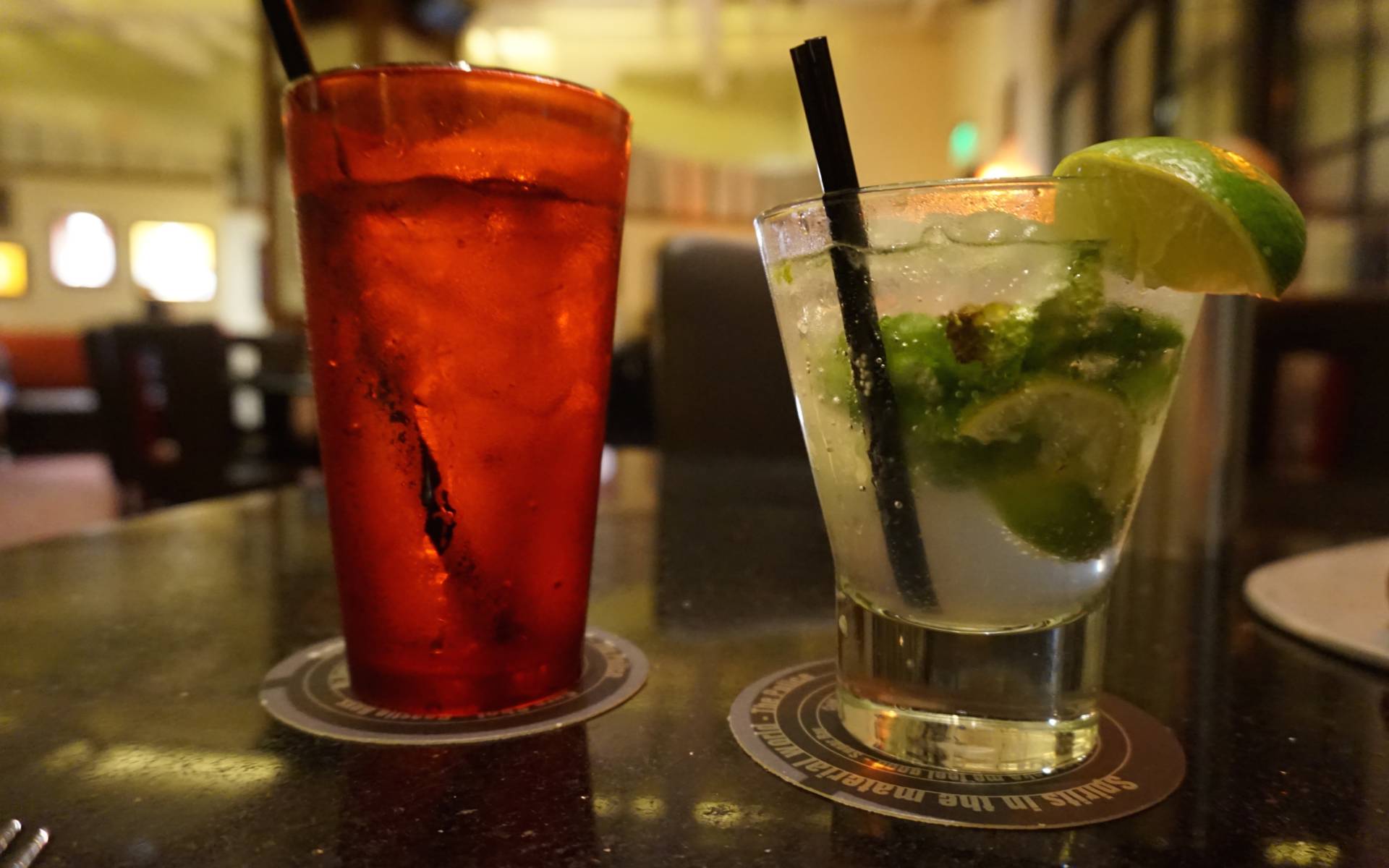 Stay tuned for part two of our Universal Orlando Resort adventure with Virgin Holidays…
Disclosure: I am a member of the Mumsnet Bloggers Panel, a group of parent bloggers who have
volunteered to review products, services, events and brands for Mumsnet. I have not paid for
the product or to attend an event. I have editorial control and retain full editorial integrity.