This time of year can get us down. The leaves are falling from the trees and the mornings are getting colder and darker. Getting up to go to work feels more and more like an insurmountable chore with each passing day. If you're feeling tired, sluggish and irritable and every day starts with the insatiable need to pull the duvet over your head and stuff your face with fatty, sugary convenience foods then it's possible that Seasonal Affective Disorder (SAD) may be kicking in. You need a break, you need to get away for a few days, centre yourself and inject some joie de vivre into your life. In the lull between summer and Christmas it's easier than ever to find a cheap flight to somewhere where it's still nice and warm and bright.
When, however, you've booked your flights, found the perfect accommodation and planned a rough itinerary of kid friendly activities combined with opportunities for Mummy to relax, the greatest beast is yet to be slain… Packing.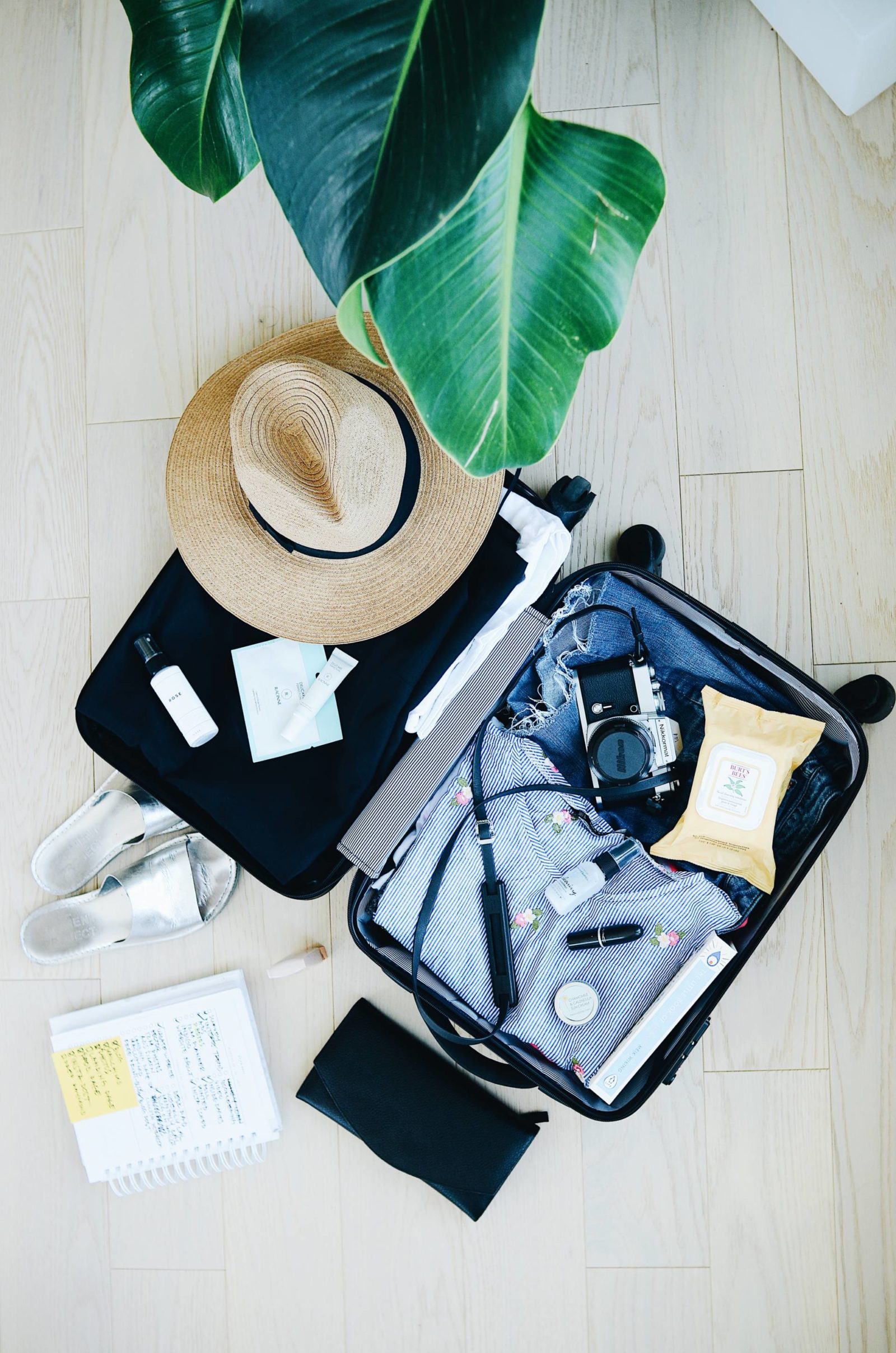 When you're going away with your kids for a limited time it can be tricky to know what to pack, especially when restrictive airline luggage allowances come into play. Most budget airlines have a weight limit of 10kg per item with the maximum permitted dimensions typically 56cm x 40cm x 25cm. Some airlines may allow you to carry extra hold luggage at a premium. You'll face a fine line, then, between travelling light and being well prepared.
Clothes
Since your packing space is limited, you'll need to pack clothes which are weather-appropriate so it's a good idea to download a weather app such as AccuWeather to get an estimation of what sort of weather you can expect while you're away. Try to pack clothes that you can mix and match to form outfits for the daytime and the evening.
Tops – Pack two good quality tees and two vest tops, so you'll be able to hedge your best with the weather.
Shorts – Aim for cottons or linens or even a pair of denims if you feel like something a bit more glamorous.
Dresses – If you're going somewhere hot, synthetic fabrics will make you a sweaty and irritable momma so opt for lighter cottons instead. Pack two that can be dressed up or down.
Nightwear – You might want to pack a light nightie or shorts set for blissful slumber on humid nights.
Shoes
Here's where you're going to have to get brutal. Your wardrobe may be teeming with gorgeous shoes that you just can't wait to share with the world, but rarely is packing heels a good use of your limited space. Weekend breaks tend to involve a lot of walking on uneven cobbled streets and it's a good idea to keep blisters to a minimum. Instead, pack trainers, sliders, havaianas from The Iconic or dressy flats. Your feet will thank you for it.
Swimwear
Whether you'll be staying in a hotel with a pool or somewhere with access to a beach, it's a good idea to pack some swimwear. Pack a bikini if you're feeling adventurous or a decent one piece if you're not.
Kids' stuff
Clothing wise, your kids' provisions will be the same of yours and their luggage allowance will usually accommodate two of everything. The biggest challenge will be keeping them compliant and entertained when flying or waiting at the airport. Loading a tablet with their favourite films and TV episodes is a safe bet, and you can't go wrong with good old fashioned books either (just be sure to factor in their weight given your luggage allowance).
Accessories
Just because you're only going away for a little while doesn't mean you're going to have to go without. It's essential to pack:
Sunglasses – You can't go wrong with classic black or tortoiseshell just make sure that you pack some shades with a decent UV filter for the sake of your eyes.
A sunhat – The classic straw sunhat is a great look virtually anywhere though it's a good idea to wear it on the plane rather than letting it get squashed into a tortilla in your luggage.
Bags
Less is more when it comes to bags. A cross body bag is your best bet for sightseeing as you stand a better chance of making sure your belongings are safe and secure, though you can probably also sneak in a clutch bag for the evenings.
Toiletries
Pack the bare minimum of makeup as well as the following essentials:
Suncream and after sun
Insect repellent
Shower gel (just in case your hotel doesn't supply it)
Deodourant
Your usual shampoo and conditioner
Toothbrush and toothpaste
Moisturiser
Cleanser / face wash
Tweezers
Hair bands/ bobbles/ scrunchies.
Hair brush
Your usual razors
A good lip balm with SPF
Of course you should also make sure you have your passport and a printout of your travel insurance details. With all your essentials covered, all that remains is to get out there and have a great time!
Disclosure: A fee was received for this post.