One of the biggest perks of being a travel blogger is that the call to pack a bag and head off on our travels – meaning I've got the whole packing thing down. However as most parents will know, once you have a child the focus of a holiday wardrobe shifts focus from you to the children. I lost count of how many beautiful summer dresses I've bought for Boo this spring and yet somehow I always seem to forget that I need clothes!
Kaleidoscope know me and my busy life all too well so asked me to take some time out and pick my favourite key summer holiday pieces from their latest collection in a bid to help me pack for me. The key is to always have pieces prepped and to hand ready to pack; it never takes me longer than 5-10 minutes to pack for a trip. The reality is that whilst I may be a super organised traveller it also comes down to the fact that as a busy mum I simply don't have time. I need a holiday wardrobe that is made up of grab and go pieces that are versatile, practical and stylish.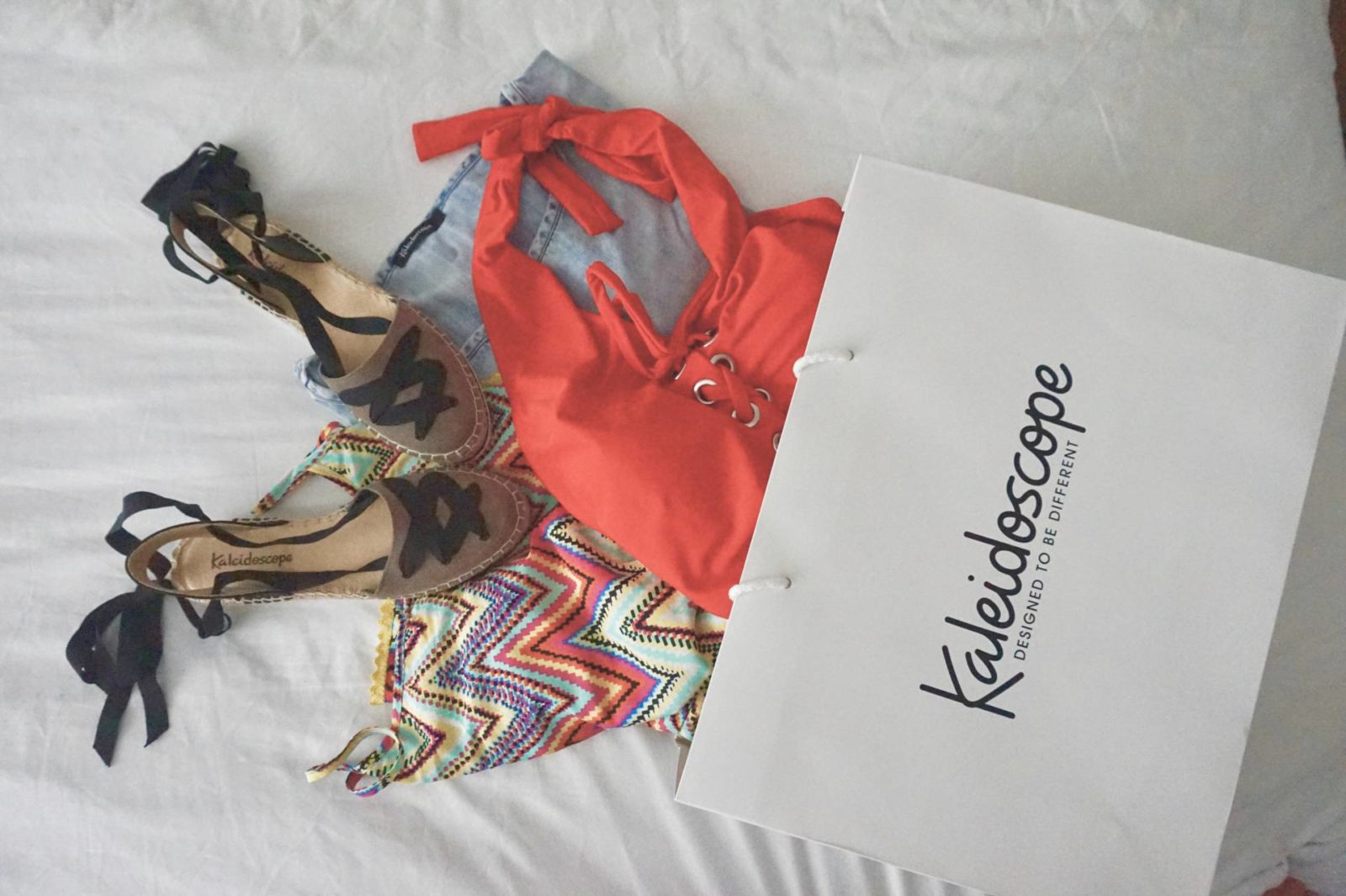 A swimsuit is the best place to start when putting together your holiday look and this show stopping tie front halter-neck swimsuit in colour of the season: orange was a style no brainer. The tie front is a great solution for the bigger boobed of us and the one piece is practical for splashing round in the water and chasing Boo up and down the beach (who else classes this as cardio on holiday?!) Yet I wouldn't feel out of place at a roof top pool party sans Boo.
Holiday starts at the airport – well for us at least, so what I wear to travel has to be three things: comfy, stylish and versatile as very often we take off from chilly London and (hopefully) land in much warmer climes. A soft denim dress is a holiday style staple and this one from Kaleidoscope is soft that I can see me wearing this all over the world and extra practicality bonus points for not being too short so perfect for playing sleep tetris with Boo while we both nap on the plane.
Talking of plane seat tetris, holidaying with Boo means I spend a lot of time running round as we make the most of our adventures exploring every minute we can, so as much as I would like to say that my summer wardrobe is entirely style eld would be doing a disservice to busy mums everywhere. I would never have imagined me to pick a patterned playsuit, but in reality this is a great holiday staple – the pattern works in its favour to help elevate it from a frumpy to summer statement and the oversized side pleats on the legs help to balance out a top heavy figure.
No holiday capsule wardrobe is complete without a pair of shoes – I can't remember the last time I packed heels for a summer getaway, for me it's all about style and comfort coming together and a pair of statement espadrilles is the perfect finishing touch to any outfit. I love these Ribbon Detail Espadrilles – they are the perfect example of how you can go from airport to holiday destination without changing, ad the ribbon detail makes then great for the evenings too. They do however come up rather small, so my advice is to size up for the perfect fit.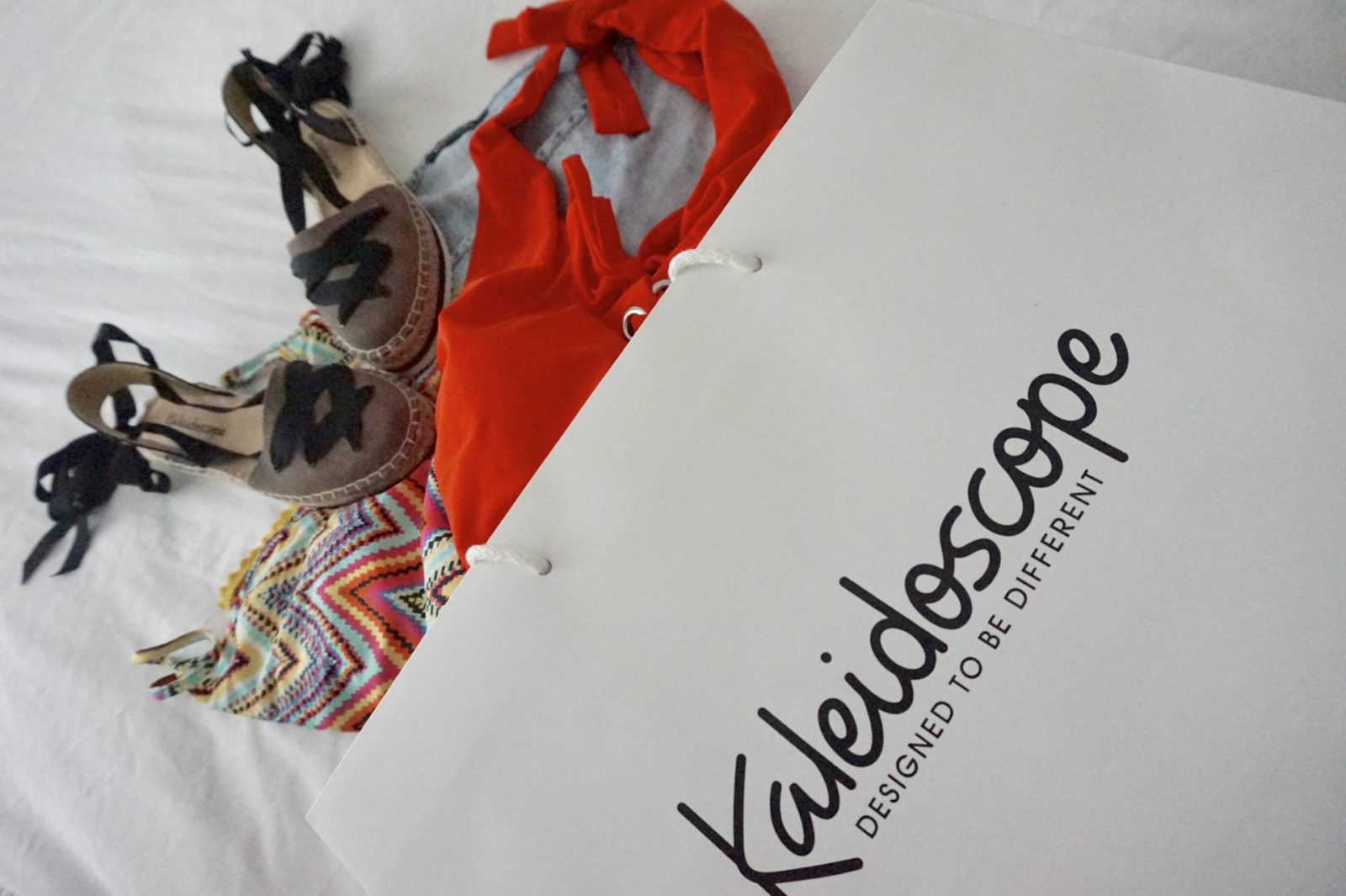 There you have my capsule summer holiday wardrobe for the busy mum. You don't have to become a slave to fashion and start lugging round ridiculously heavy suitcases to keep your style cool this summer, it's all putting together key pieces that suit you and your destination all the while being able to partake in an impromptu skipping competition along the beach, like I do with Boo.
Disclosure: Kaleidoscope gifted me a selection of clothing for the purpose of this review.