We have an action man for a Daddy here at Mummy and Boo HQ, what with playing toy soldiers and running a ridiculous amount of miles every week, he has his fair share of sport injuries plus just good old-fashioned wear and tear.
With a busy life, it's not the injury that matters but how quickly you are recover that counts. With this in mind, we jumped at the chance to review Deep Heat Heat Rub.
I thought the best way to test out the rub was to do so 'in the field' so the last weekend that the He was away with the army I packed him a tube of heat rub in his wash bag with strict instructions to use it as part of his warm up and cool down routine.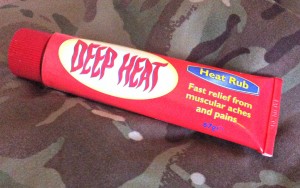 Deep Heat Heat Rub has four active ingredients
– methyl salicylate
– eucalyptus oil
– turpentine oil
– menthol
together these produce an aspirin like effect with the rub being absorbed through the skin to help reduce pain and inflammation.
2 days later he returned with half a tube gone and a list of what had and hadn't worked for him.
When used before exercise as an injury preventative he found that the sweat accelerated the deep heat action and became slightly itchy. He found it most effective after exercise when rubbed into the calves and other similar large muscle areas. He also found it really helped to soothe the aches and pains of backache after a long hard day of playing toy soldiers.
So what's the verdict? An all round good product – an essential in the wash bag of every action man toy soldier dad!
Deep Heat Heat Rub £3.54 for 67g and is available at pharmacies and supermarkets nationwide.
Disclosure: We were sent a tube of Deep Heat Heat Rub free of charge for review. No payment was received and all opinions are 100% honest we promise.