One of the best things about holidays is having a break from the norm and relaxing – and I like this to apply to both my skin and haircare; however the joys of being half middle eastern is that my hair will punish me until my next hair wash if I neglect it, so here are my holiday hair must haves…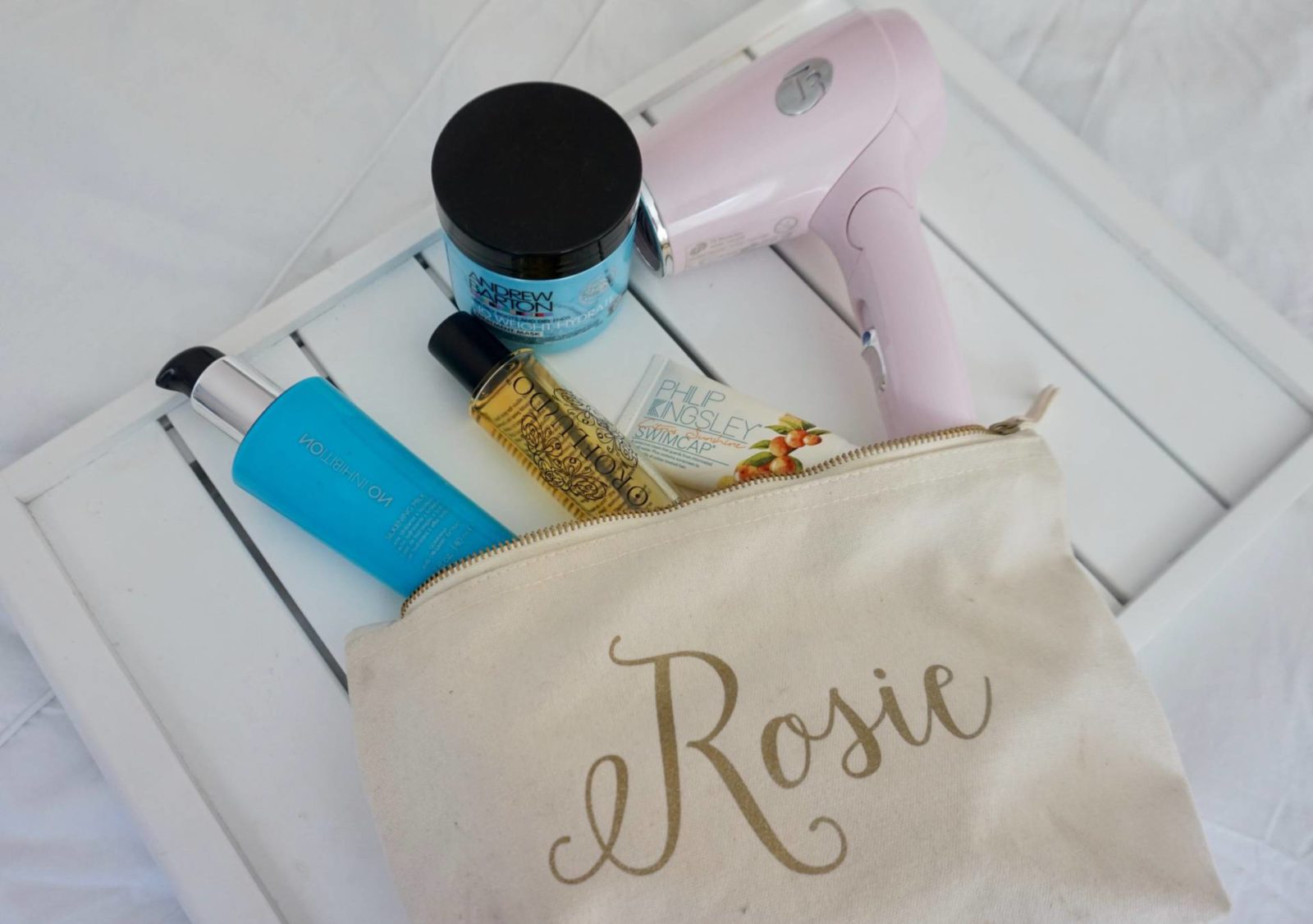 When it comes to shampoo and conditioner I use whatever travel size ones I have at the time (at the moment I have L'Oreal Elvive) but the key is hydration; I swear by Andrew Barton's No Weight Hydrate Treatment Mask, its richness is perfect for holidays when your hair can take a bit of a battering and is perfect for a quick fix while you're away and once you're home. Oh and at less than £2, it's an absolute bargain.
Once I'm out the shower I use the No Inhibition Silkening Milk on towel dry hair to help lock in hydration and to give my hair a real shine will keeping it really light weight; because no one wants weighed down, product heavy hair on holiday.
Now I know all hotels come with hairdryers but I just can't resist taking my own (the fear is real of discovering the hotel hairdryer comes without a nozzle and is as slow as the ones I remember from the swimming pool as a kid!!) I've had the T3 Featherweight Compact hairdryer for a while and it's one of those rare breeds of electrical haircare that cares for your hair as it styles. Don't be deceived by it's size, it still packs a power punch and has my hair dry in now time whilst limiting frizz.
I'm a big fan of oil for the hair and use it both wet and dry. However on holiday to keep my hair as lightweight as possible I only use it once I've dried my hair for maximum smoothness and to maintain my style plus let's face it no one wants a ball of frizz on their head! I really like how the Orofluido leaves my hair feeling, it's good enough to use all year round, bonus.
My finally holiday hair must have is the Philip Kingsley Swimcap, I love swimming and on holiday I can't wait to get into the pool for a splash with Boo but also to get in some lengths plus little known fact about me is that I'm a keen sea swimmer (much to my Mum's horror, she still panics when I'm just a small dot on the horizon and will stand and watch until I return!). Whilst swimming on holiday is fab, it's not so great for your hair, in particular the chlorine which can really strip your hair and any colour you may have so If I know I'm going to be spending the day in the pool I apply this to damp hair and know that my hair will still be in top condition no matter how many times I'm forced to dive like a dolphin between Boo's legs in the pool.. oh the things we do to buy ourselves thirty minutes sunbathing!