Beauty trends come in all shapes and sizes, with the theme of the moment being water (or hydra if you're in charge or naming beauty products!) – I recently tried the Chanel Hydra Beauty Crème and instantly loved the light feeling of hydration sans stickiness, at £50 for a pot I decided to see what drugstore beauty had to offer and whether they could hold their own in the hydration stakes.
There were two prominent hydra beauty products when I popped into Boots; the Neutrogena Hydro Boost Water Gel and the L'ORÉAL Hydra Genius Aloe Water Liquid Care. Both come in at less than £15 each, so a great way to try the skincare trend of 2017.
The concept of hydra beauty is only one of the trends that shows how far east beauty is emerging as the beauty directionals of contemporary beauty. Premium beauty brands have for a while now recognised the prominent rise of the market in China, South Korea and Japan and have been targeting and launching product ranges in that region first before introducing them to the western market.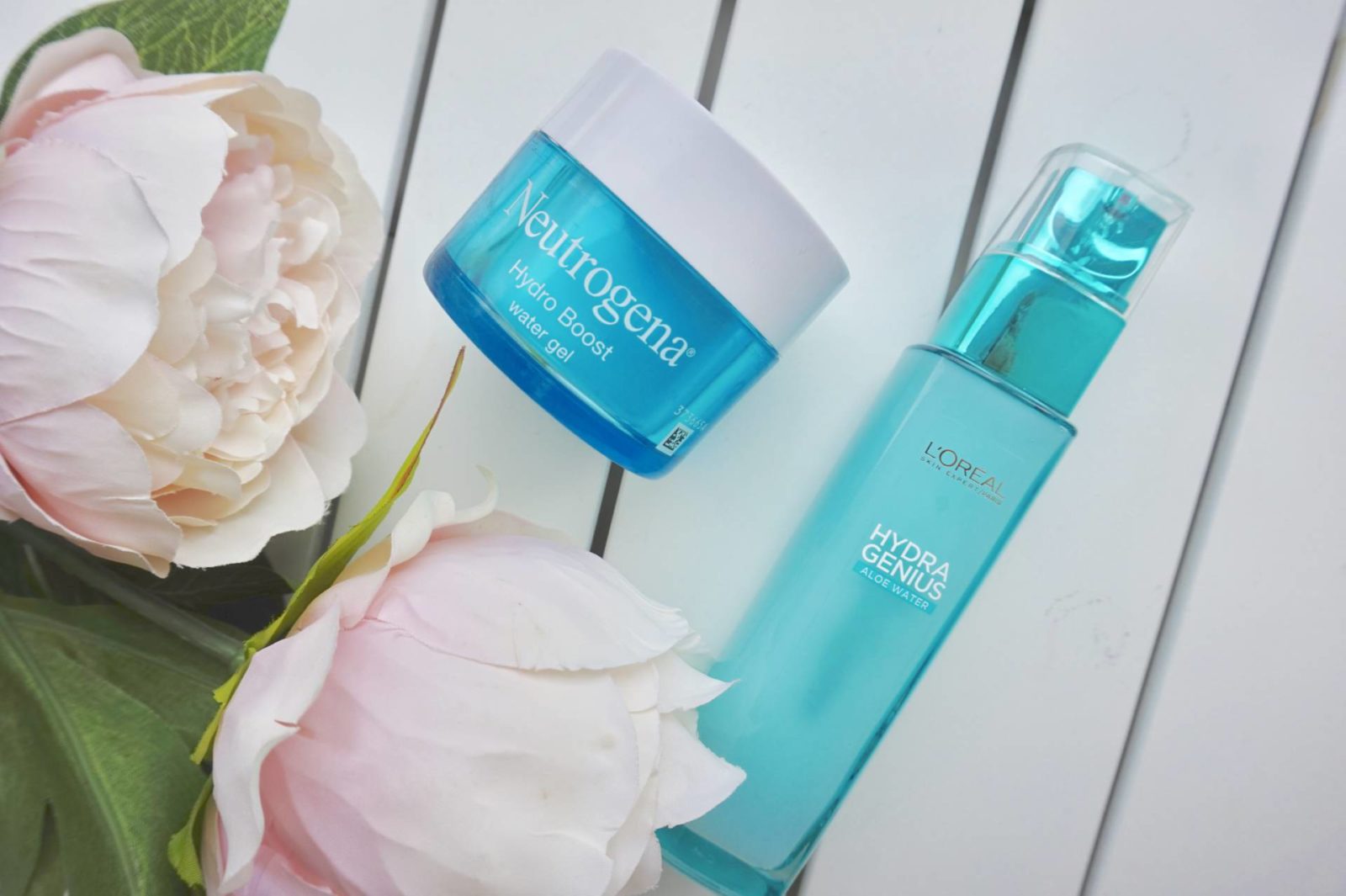 I decided to trial both the Neutrogena and L'ORÉAL products for a week each using them morning and night. First up was the Neutrogena Hydro Boost Water Gel. Neutrogena is one of the pillars of affordable skincare so I was keen to see how they had translated the hydra trend. The water gel is the more traditional of the two, it's consistency is light and cooling, yet substantial enough to feel nourishing for your skin at night. After 7 days my skin felt hydrated, plumped and not greasy at all, which helped me to ditch the foundation for a couple of days as my skin looked healthy adn glowing.
Next up was the L'ORÉAL Hydra Genius Aloe Water Liquid Care, of the two products this is the most 'innovative' offering to the beauty market – it takes lightness to a whole new level and really lives up to the packaging claim of a unique water-like texture. It has a premium feel with it's glass pump bottle goes on really easily, it says to apply one pump, however I've been using two to cover my face and neck. In comparison to the Neutrogena, it's much lighter and you can feel the presence of aloe water – it has a somewhat sticky consistency at first which massages away to leave your skin light and cushioned, with only the gentle fragrance of aloe lingering. After 7 days, mu skin was visibly hydrated although it's ultra lightness meant I still needed a bb cream.
Going forward I'll be keeping these two additions to my daily summer skincare routine. The L'ORÉAL is a great light skin base for the mornings and it's fast absorbing making it perfect for those busy days when I don't have time to wait ages for my moisturiser to be absorbed. The Neutrogena whilst still super light is the that bit heavier than the L'ORÉAL so is great for a summer night cream as it stops my skin being over oiled while I sleep yet helps to to recover and rehydrate.
It's no surprise that hydration is top of the agenda for skincare, after all our skin is a living breathing organ and it not only needs to be kept hydrated for healthy function but will repay you ten fold in the beauty stakes. Drugstore beauty brands are keeping up with skincare innovation giving us lots of affordable hydra beauty options.