When Boo isn't jet setting across Europe she still makes time for her fair share of mini breaks – be they to Grandma's or escaping to the country oh and there's also the fairly frequent hospital getaways. Ok so despite what Boo would like us to believe she isn't a Hollywood starlet who clicks her fingers and a private jet appears. However like many modern minis she's no stranger to travelling and like Mummy is use to her home comforts wherever she lays her head.
Boo is rather fond of my iPad, in fact she sometimes struggles to grasp the concept that it's actually mine – I'll let her off she is after all still only 2! It's one thing to let Boo loose with the iPad at home but there's a whole other bunch of issues once we take it out. I'm pretty sure there's nothing in the world that can stop accidents happening but one really important part is to make sure the iPad is protected when it's in my bag/suitcase/on the back seat of the car.
We tried out Beatrix New York's iPad case to see how it fared with our busy schedule. We chose the ladybird design named Juju and fell in love as soon as we unwrapped it. The design is not only so pretty but it's the attention to detail that really sets it apart, like the ergonomically designed zipper which with it's soft grip is perfect for little hands.
It's slightly padded inside which whilst it won't protect from toddler tantrums does add just a little cushioning to help soften the blow of daily family life.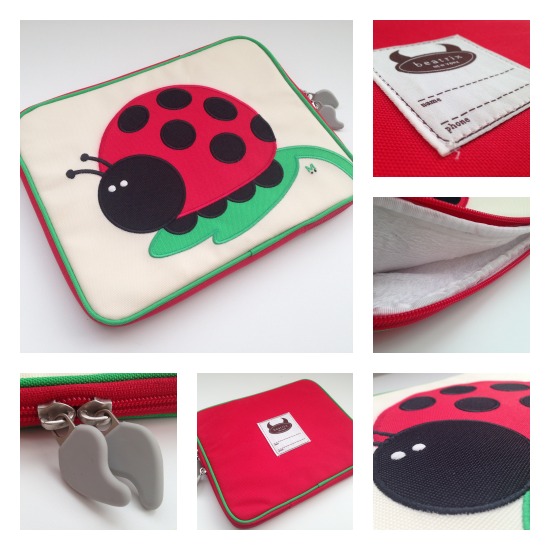 Beatrix New York is an amazing brand, which focuses on designing 'cool contemporary stuff for kids' whilst also ticking boxes when it comes to practicalities looked for by parents.
We've been using the Beatrix New York iPad case for quite a while and have to say despite heavy use by Boo it still looks as good as new and encourages her to look after the iPad when she's 'borrowing' it.
I may have borrowed it on a few occasions under the pretense that I couldn't be bothered to swap cases and each time I've had lots of compliments and they were from minis and adults alike!
The iPad case comes in a choice of 4 designs and is available online at John Lewis
Disclosure: We received a Beatrix New York iPad case for review. No payment was received and all opinions are 100% honest we promise.