Be Beautiful's 7th Birthday
Be beautiful a health and beauty centre in Carshalton, Surrey turned 7 on Saturday and what better way to celebrate than by holding an open day.
Clients old and new came to have a look round and see what treatments are on offer; not to mention the gorgeous cupcakes and champagne!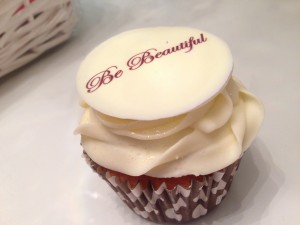 Be beautiful was started in 2006 by Bonnie and Emma offering traditional health and beauty treatments and has since grown to offer much more. Demonstrations included semi permanent make-up, Reiki (more on that in a minute), teeth whitening, and sports massage.
After a busy morning I was an all too keen to volunteer for the Reiki – having never tried it before I was intrigued to see if it was as good. After closing my eyes for a few minutes (although it felt like I'd been asleep for hours) the verdict was in… AMAZING! Why haven't I had this before! With the two Sue's – both Reiki masters you know you're in safe relaxing hands. A definite must for literally everyone!
The atmosphere at the open day was brilliant with Emma and Bonnie being great hosts. Much attention was focused on their newest service: Be Beautiful Boudoir a photography and pampering experience with a difference! Described as flirty and fun it really is the the perfect gift be it a bride to be or even a woman celebrating her curves! Sofie Hughes is the talented lady behind the camera with Bonnie on hand throughout the shoot to make sure you look your utter best. It's enough to make any girl stick to her fitness plan!
So whether you're after a leg wax and fake bake or perhaps are looking for more of an indulgent pampering session Be Beautiful is a hidden gem only 25 minutes away from the capital and must for all beauties out there.
Happy Birthday Be Beautiful!
X