Boo's Beautiful Baptism gift of a Baby Goat
What with appearing on national television, twice and even having her own hashtag for her baptism there's no denying that Boo's life has all the trappings of a celebrity.
However receiving gifts from British designers it's not something the Mummy and Boo household are used to, so when Katherine Caldwell – a British artist, illustrator and designer sent Boo a baptism gift we were excited to see what it was!

We're used to a lot of little parcels landing on our doormat with Mummy and Boo goodies but were stunned by just how beautiful the packaging was for Boo's present – each package from Katherine Caldwell is gift wrapped by hand to give that extra special touch.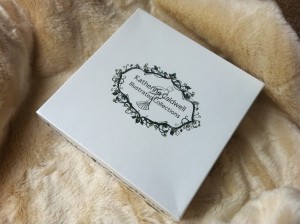 Beneath the delicate layers of crisp tissue paper we found the most beautiful sleep suit with a screen print of a sleeping Baby Goat part of the Butterflies and Dragonflies collection. The illustration is designed and printed by Katherine Caldwell and if I'm honest the picture really doesn't do it any justice; so much detail gives the goat a life like quality so much so that Boo clapped her hands together and kissed 'GiGi' as she playfully named him!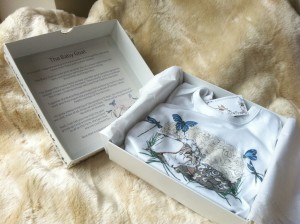 Inside each box is the story behind the design so that night's bedtime read was an easy choice!
The sleep suit is made from the softest of cotton and is organic; in fact everything from the packaging to the ink used for the print is organic which really helps to remind us that gorgeous clothing choices can be both fashionable and ethical!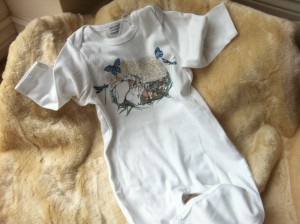 Boo loved GiGi the sleeping goat and even had to be coaxed out of it and into her baptism gown on her big day!

Katherine Caldwell is a British designer to watch – her collection of baby clothing is the perfect choice for those looking to combine luxury, sustainability and ethics perfectly. A perfect gift for a perfect Boo – thank you Katherine Caldwell!
Disclosure: Boo was kindly sent a Baby Goat Sleep Suit as a Baptism gift by Katherine Caldwell, all opinions expressed are 100% honest, we promise!